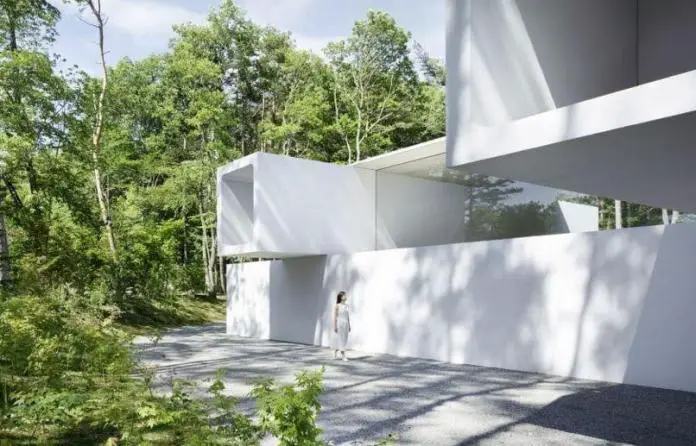 In this article, Sky Marketing presents a creation of the Japanese architecture studio Nendo which has created a house and warehouse out of pieces of precast concrete sewers in central Japan.
The Prefab House with Concrete Tunnels
Architecture with prefabricated elements is nothing new. In fact, the architectural future – if not already – goes through this industrialized architecture to save on costs and build better.
We have seen how they transform freight containers into houses and play with their shapes, as well as how they build prefabricated exterior walls that are placed like a Tetris game or how large concrete pipes become micro-apartments and rooms, in short, a thousand ideas!
The imagination of some architects to innovate in prefabricated houses is causing really interesting architectural projects to appear.
The famous Japanese architecture studio Nendo also presents us with a magnificent house built with precast concrete sewer tunnels. Called the Culvert Guesthouse, a construction between warehouse and residential housing that was built from four huge precast concrete tunnels that were stacked.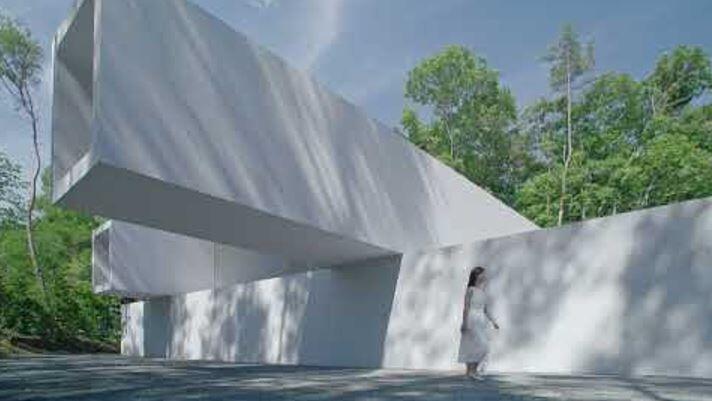 The unique building is located among the dense forests on the outskirts of the city of Miyota in Japan. In a quiet environment rich in nature where streams intertwine through a thick forest of red pines.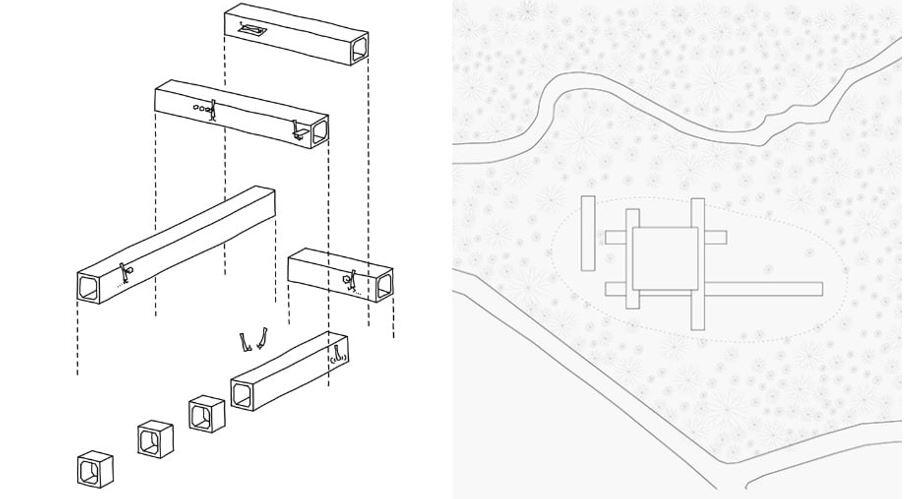 Its elongated concrete forms were constructed from joining pieces of precast concrete culverts, commonly used to enclose utilities such as water and electricity underground.
As they are elements destined for infrastructures and the architectural project had other needs. The study used the prestressing method to achieve a more coherent stacking and tightness between pieces.
The prestressing method is a technique used in civil engineering structures, such as bridges, in which members are aligned and then tensioned with steel wires to connect the members. In this way, a smooth and seamless surface finish is achieved, obtaining a hermetic seal and greater durability.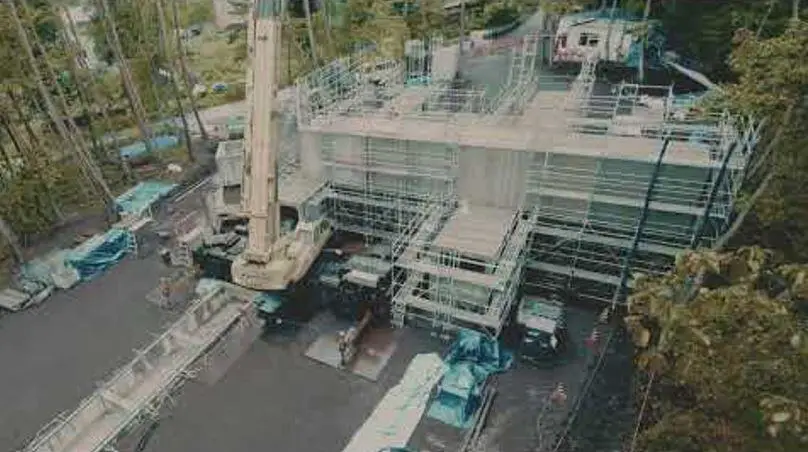 A total of 63 square-shaped pieces of approximately 12 tons each were used in the prefabricated house. By connecting these pieces, a slender tunnel-like space is created with an internal dimension of approximately 2 x 2.3 meters.
According to the Nendo studio… "The space is not so architectural, but a project that combines civil engineering concepts with product design details."
On the ground floor, the main space of the warehouse is located in a 40-meter-long tunnel that has large glass windows at each end for filing furniture, products, and works of art. Parallel to this space, there is another tunnel that houses the residential area that includes a kitchen, bathroom, and toilet.
Both ground floor tunnels are located in parallel. They are joined by a flat roof creating an interior space for the dining room. This is closed with large glass windows that occupy the entire wall on both sides.
The floor of the living room is finished with gravel hardened with a resin base, which facilitates the passage and avoids the glassy surface that would result from the poured resin. The windows were made without metal frames as far as possible, and the high-transparency glass is up to 10 meters in length.
Stacked over the two tunnels, two other perpendicular caissons form the top floor of the building. They contain a bedroom and a secondary archive with a study space.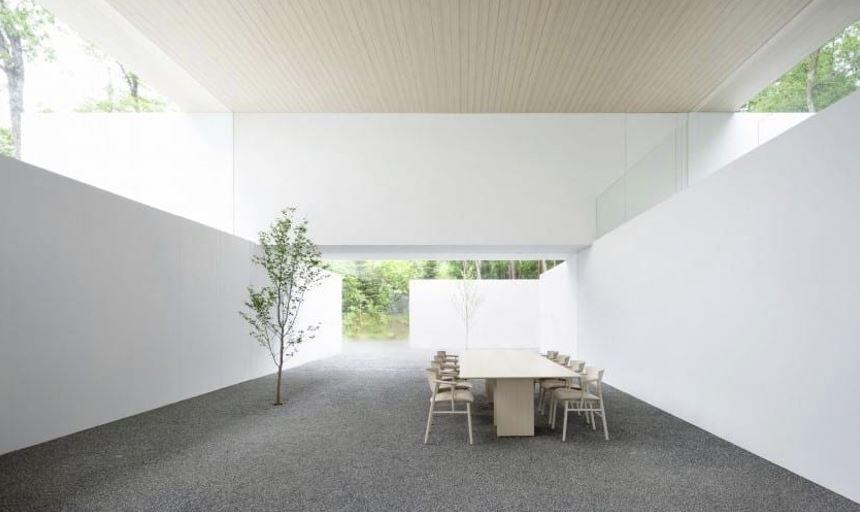 The smallest details of the house are meticulously designed, from a bathtub carved into the ground, where the water is flush with the ground, suggesting a continuous and uninterrupted surface or the design of the door handle that integrates perfectly into the narrow tunnel opening.
All the concrete elements on the outside are painted white to give the warehouse and residential area a minimalist look. In addition to offering a contrast with the exterior landscape and its vigorous green.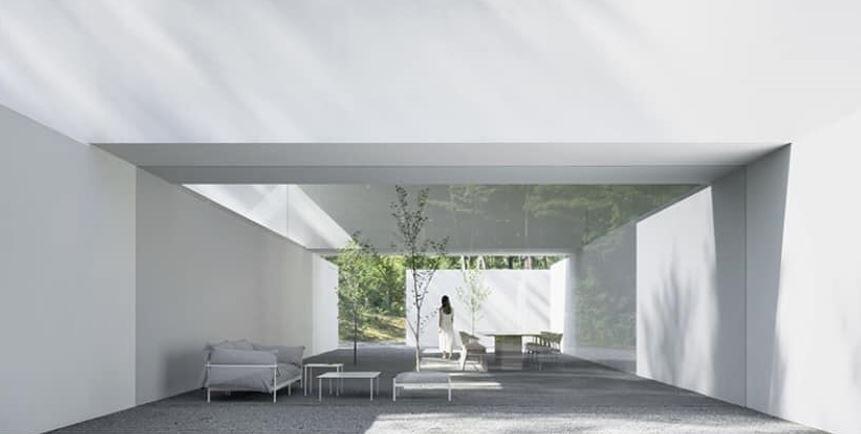 In its interior spaces, the line of white colours is followed in all the rooms and the use of wooden furniture with simple and straight lines.
In the garden, there is a fifth concrete tube next to the main warehouse building to house additional living space that will be used in the future.
If you liked this article, share it! Moreover, you can also read about Lahore Smart city, a real estate jewel in Pakistan.