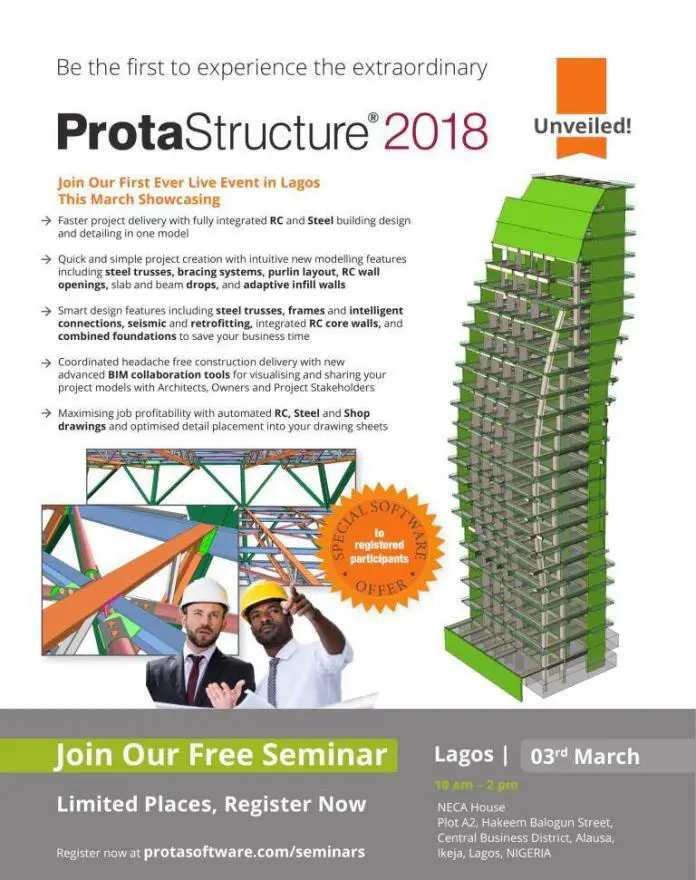 ProtaSoftware in conjuction with ApeleDesigns invites you to the first ever live event/conference in Nigeria. ProtaStructure is the all-in-one package for multi-material modelling with steel, concrete and composite members, 3-D finite element analysis and code-compliant design of building structures.

Theme: 
Innovations in 3D Modelling of Steel and Concrete Together with Advancements in BIM Technology for Coordination, Fabrication, and Construction
DATE:  Saturday, March 03, 2018
TIME: 09:30am – 02:30pm
VENUE: NECA House Plot A2, Hakeem Balogun Street, Central Business District, Alausa, Ikeja, Lagos, NIGERIA.
Registration: FREE
(note: the venue has limited seats which will be allocated on a first come first serve basis)
In this year's seminar series, we will explore innovations Prota is making in helping engineers take advantage of changes in the way projects are designed, documented, coordinated, and constructed. Attendees will learn how 3D modelling technology can be effectively used to design multi-material structures including steel and concrete elements, automatically produce and manage high quality drawing and calculation documentation, and share 3D BIM information with Architects, Owners and other project stakeholders. 
Joseph Kubin

[Msc] – CEO, Prota and Creator of CSC Orion
Nigel Watts

Beng (Hons) Civil NZ – Managing Director for Prota Asia
Mustafa Tümer Tan

(Msc) – Product Manager, Prota
10:00 am   Introduction today's Agenda
10.15 am  Unveiling ProtaStructure 2018 – Integrated Multi-Material Design Solution for Building Systems
11.00 am  Revolutionary Automated Detailing, Drawing Management & Component Design with ProtaDetails 2018
11.45 am   Morning Tea Break
12:15 am  Introducing ProtaSteel 2018 – Revolutionary Automated Steel Detailing and Connection Design
1.15 pm   Synchronise and Coordinate BIM Models for Project Efficiency with ProtaBIM 2018
2:00 pm  Question & Answer 
You don't want to miss this opportunity. Invite your friends, colleagues, partners, school and company.
Engr. Osarenkhoe Osayanmon
+2347030367178