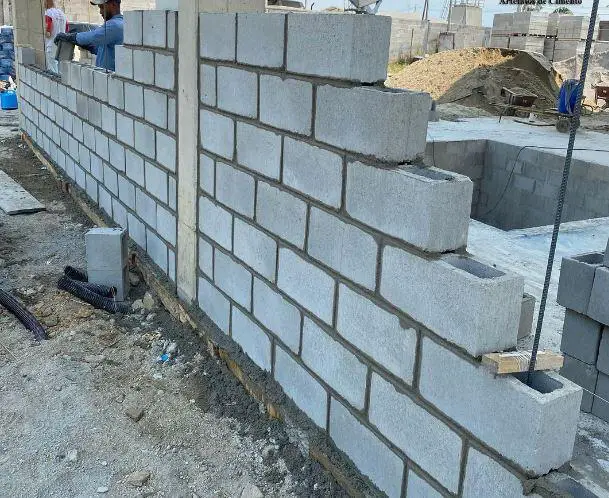 Sancrete blocks are popular precast masonry units that are used in the construction of residential, commercial, and industrial buildings in Nigeria. They are usually produced using sharp sand, limestone Portland cement, and water. In some cases quarry dust (stone dust) is added to the mix to increase the strength and density. This article discusses the cost of laying blocks in Nigeria.
Sandcrete blocks are usually produced as either hand-moulded or machine-vibrated. Commercially, these two types of blocks are priced differently, as the latter is deemed more quality and stronger. Furthermore, sandcrete blocks appear in a variety of sizes such as 225 mm (9 inches), 150 mm (6 inches), 125 mm (5 inches) and 100 mm (4 inches). They can be solid or hollow depending on the desired use.
Sandcrete blocks can be used as load bearing walls, or as partition elements in buildings. For the construction of bungalows and fences, smaller sizes of sandcrete blocks such as 6 inches (150 mm) and 5 inches (125 mm) are usually employed. They are also sometimes used for minor partitioning of toilets, stores, laundry rooms, etc in duplexes and commercial buildings. However, it is more common to see 9 inches hollow blocks used in the construction of duplexes in Nigeria.
The Standard Organisation of Nigeria (SON) has a document that provides the specification for both the manufacture and use of sandcrete blocks in Nigeria (NIS 87:2004). The standard requires that the mean compressive strength obtained from a set of five (5) blocks of 225mm (9 inches) and 150mm (6 inches) wide blocks must not be less than 3.45 N/mm2 and 2.5 N/mm2 respectively. The standards further state that the compressive strength of individual load bearing blocks shall not be less than 2.5 N/mm2 for machine-compacted blocks (NIS 87:2004).
These values are higher than the minimum requirements of 1.75 N/mm2 by the Nigerian National Building Code (2006) for individual block, and 2.0 N/mm2 by the British Standard for non-load bearing walls.
The cost of laying blocks in Nigeria varies from location to location and the level of complexity involved. Blocks are laid by skilled masons or bricklayers who must be paid according to the agreement reached before the commencement of the work. Each mason/bricklayer usually has a minimum of one service labourer who provides him with mortar, blocks, and assists him throughout the duration of the work.
See also…
Cost of plastering a house in Nigeria
Typically, for an average daily job man who has no permanent employment contract with a construction company, the wages for laying blocks are usually determined by;
(a) Daily pay (minimum number of hours)
(b) Output (number of blocks laid)
Daily Pay
In a daily pay contract, the mason is entitled to a fixed amount of money at the of the day. The work hours are usually from 8:00 am to 5:00 pm (8 hours of work). Currently, the rate varies from ₦ 5000 to ₦ 8000 per day depending on the location and the complexity of the work. Currently, the wages of the service labourer will usually be between ₦ 2000 to ₦ 4000 per day. Under normal circumstances, it is expected that the mason will lay a minimum of 100 blocks per day.
Daily pay type of contract is suitable for small jobs or jobs where extreme carefulness is required such as block wall setting out and forming.
Pay based on output (counting)
In this type of contract, the mason is paid based on the number of blocks he lays per day. The cost per block can vary between ₦ 30 (thirty Naira) to ₦ 70 (seventy Naira) depending on the size of the block and the complexity of the work. Jobs that require scaffolding (work at height) is usually priced higher than jobs that do not require scaffolding. When block work contract is done based on counting, it is either the mason will pay his service labour (the price is negotiated) or the client pays the service labour.
Cost of Laying Blocks in Nigeria (For Bill of Quantity)
Let us evaluate the average cost of laying one square metre of sandcrete block wall in Nigeria. Currently, the cost of one unit of 9 inches block in Nigeria is ₦ 350.
Therefore, for one square metre of block wall, the cost of blocks is ₦ 3,500
Cost of sand for mortar required per square metre of wall = ₦ 255
Cost of cement for mortar required per square metre of wall = ₦855
Cost of labour per square metre of wall = ₦ 900
Total = ₦ 5510 per square metre of wall
Therefore currently, the cost of building one square metre of 9 inches hollow block wall in Nigeria is ₦ 5,510 (Five thousand, five hundred and ten Naira), ignoring the contractor's profit and overhead.