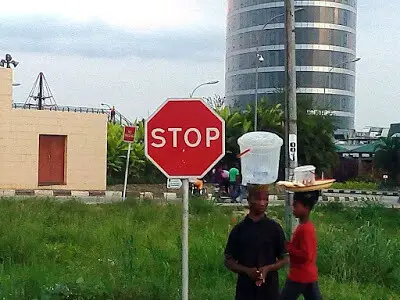 Road traffic signs are signs that are erected by the side of the road, or above the road to inform or give instructions to road users. We are all road users, and a thorough understanding of these signs will make our usage and interaction with highway facilities safer, and more convenient. On the contrary, lack of knowledge of traffic signs can mean incompetency and disobedience to traffic regulations. This may result to your vehicle being impounded,
and/or you being fined by officers, and in the worst case, highway crash.
In Nigeria, whenever Federal Road Safety Corps (FRSC) Marshals are on highway patrol, penalty tickets often issued that are related to lack of road signs knowledge, and their penalties are briefly highlighted below;
1. Construction Area Speed Limit Violation (CAV) – Fine = N3,000 – 3 Penalty points
2. Light/Sign Violation (LSV) – Fine = N2,000 – 2 penalty points
3. Road Marking Violation (RMV) – Fine = N5,000 – 5 penalty points
4. Route Violation (RTV) – Fine = N10,000 – 10 penalty points
5. Speed Limit Violation (SLV) – Fine = N5,000 – 5 penalty points
6. Unauthorized Tampering / Removal of Road Signs (UTS) – Fine = N5,000 – 5 penalty points
7. Wrongful Overtaking (WOV) – Fine = N3,000 – 3 penalty points
8. Other offenses / Violations (OFV) – Fine = N3,000 – 2 penalty points
Penalty points are points that allotted to traffic offenses accumulated in a driver's record. The implications of such penalty points are given below;
– Warning (10 – 14 penalty points)
– Suspension of licence (15 – 20 penalty points)
– Withdrawal of licence (21 and above penalty points)
Nigeria road traffic signs are divided into the following categories;
A. Warning Signs – Warning signs are usually triangular in shape, with yellow or white background, black inscription, and red border. Another variety is the 'Give Way' or 'Yield' sign, which is an upside down triangle. As the name implies, it is a sign that warns of you about what is ahead, or instructional warning about a certain situation.
B. Regulatory Signs – Regulatory signs can be prohibitive, or mandatory.
(i) Regulatory Signs (Prohibitive): These signs are usually circular in shape with yellow or white background, black inscription, and red border. Another variety is the STOP sign, which is octagonal in shape. The stop signs requires that you stop your vehicle completely whenever you see it. Generally, prohibitive signs give instructions that are prohibitive in nature.
(ii) Regulatory Signs (Mandatory): Regulatory signs are usually circular with blue background, white inscription, and sometimes with white border. They give positive instructions.
C. Informative Signs : These signs are usually rectangular in shape with green background, and provide guidance or information while on the highway.
Now these signs are shown in full below. All traffic signs are labelled at the bottom.
A. WARNING SIGNS 
FIG A1: YIELD EVERY RIGHT OF WAY. GIVE WAY TO TRAFFIC ON YOUR RIGHT OR TRAFFIC ON YOUR LEFT
FIG A2: ROUNDABOUT
FIG A3: NARROW BRIDGE
FIG A4: CARRIAGEWAY NARROWS
FIG A5: Y – JUNCTION
FIG A6: INTERSECTION WITH MINOR ROAD
And many more …
B. REGULATORY SIGNS (PROHIBITORY)
 
FIG B1: NO ENTRY FOR VEHICLES
FIG B2: STOP AT INTERSECTION
FIG B3: SPEED LIMIT (MAXIMUM)
FIG B4: NO PARKING
FIG B5: NO U-TURN
FIG B6: POLICE CHECK POINT – STOP
FIG B7: NO ENTRY FOR VEHICLES EXCEEDING 3m HEIGHT
FIG B9: NO ENTRANCE FOR LORRIES
And many more …
C. REGULATORY SIGNS (MANDATORY)
 
FIG C1: DIVERSION / ONE WAY
FIG C2: SPEED LIMIT (MINIMUM)
FIG C3: FORWARD – ONE DIRECTION
FIG C4: TWO WAY
FIG C5: 4-LANE 2-WAY DIVIDED HIGHWAY
FIG C6: GIVE PRIORITY TO APPROACHING VEHICLE
FIG C7: ROUNDABOUT
And many more ….
D. INFORMATIVE SIGNS
 
FIG D1: ROUTE ASSURANCE SIGN (Minna 25 km)
FIG D2: PLACE NAME (Oworonshoki)
FIG D3: ADVANCE DIRECTION SIGN
FIG D4: DIRECTION TO AIRPORT
FIG D5: HOSPITAL
FIG D6: FILLING STATION
FIG D7: MECHANICAL HELP
And many more…
TRAFFIC LIGHTS/SIGNALS
These are electronic light signalling devices used to control traffic flow at intersections to avoid conflict of vehicles. The basic signals are shown in the pictures below.
TO DOWNLOAD ALL NIGERIAN ROAD SIGNS (A FULL PAPER) IN A PRINTABLE FORMAT, CLICK HERE
 
This post is dedicated to members of NYSC Federal Road Safety Club (Batch 'B' 2015 and Batch 'A' 2016), Ikot Ekpene L.G.A., Akwa Ibom State, and the FRSC Marshals at RS 6.32 Ikot Ekpene Unit Command. God bless you all for your efforts in preaching the message of safety.