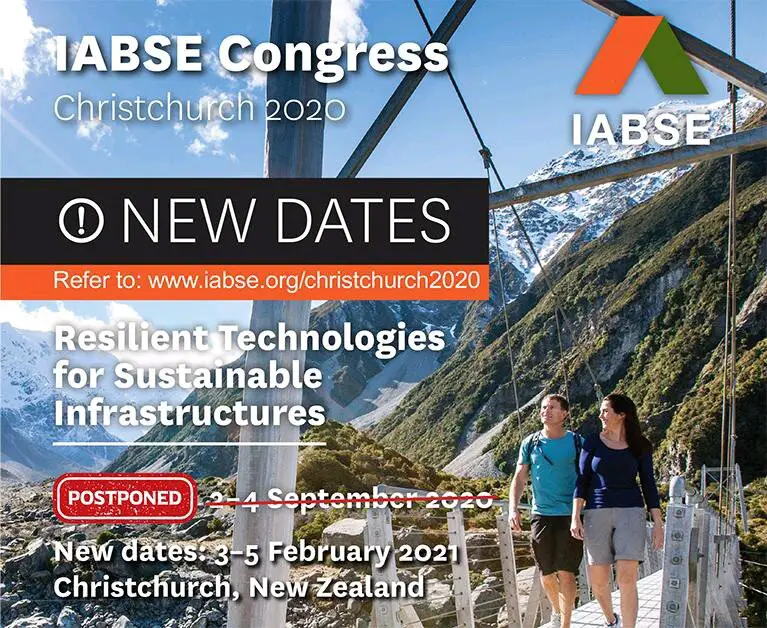 The International Association for Bridge and Structural Engineering (IABSE) has postponed the IABSE 2020 Congress ChristChurch New Zealand, initially scheduled to hold from 2 – 4 September 2020 to 3 – 5 February 2021 due to the COVID-19 global pandemic.
IABSE is a fellowship of structural engineers operating on a worldwide basis, with interests in all type of structures, in all materials. It acts to improve our knowledge and understanding of the performance of structures. Its members represent structural engineers of all ages, employed in design, academia, construction, regulation and renewal. Many of its members occupy senior roles based on a history of personal achievement.
In a statement released by the IABSE 2020 Congress Organising Committee on their website;
The IABSE 2020 Congress which was supposed to take place on 2 – 4 September 2020 is now rescheduled to take place on February 3-5, 2021. We sincerely hope that this date is far enough in the future that will allow us to have a successful and productive event.

This decision has been taken in consideration of the safety and comfort of all our participants especially those coming from abroad. February is a beautiful time of year to visit New Zealand, with it being summer we encourage you to make a plan to have an extended trip to this side of the world once international travel bookings can commence again.

The registration platform remains open and we encourage you to register as soon as you are in a position to do so. We will extend the early registration deadline out to 2 October 2020 to ensure you don't miss out on the opportunity to get a discounted rate.

We are currently undertaking the paper review process and this will continue as normal, however authors will receive feedback at a slightly later date than previously advertised. Please refer to www.iabse.org/christchurch2020 for revised dates.

We are looking forward to welcoming you to New Zealand when we're all in a position to meet again!
In another related event, the IABSE Symposium Wroclaw 2020 which was supposed to take place on 20-22 May 2020 has also been rescheduled to take place on 7-9 October 2020. The Registration Platform has been re-opened, and authors, registered participants will automatically receive updates through mails, newsletters and on their official symposium website at www.iabse.org/Wroclaw2020.