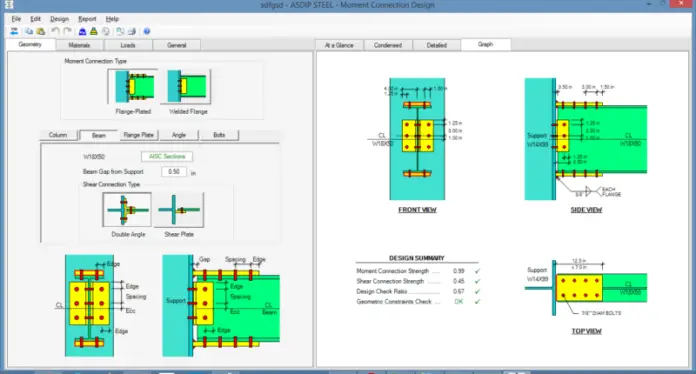 ASDIP Structural Engineering Software company has announced the release of STEEL-5, the latest version of ASDIP STEEL software module. The Florida, USA, based structural engineering software company has been operational since the year 1992 and offers different modules for civil engineering designs such as reinforced concrete, steel, foundation, and retaining walls. The STEEL-5 is the latest version of the steel package which offers advances and improvements from the previous versions.
ASDIP STEEL software is utilised by professional engineers for the design of steel members and connections. It works with any operating system, and assists structural engineers to transparently design, analyze, check and optimize structural design work. According to the company's official website, the following are some of the most important features and benefits included in version 5 of ASDIP STEEL;
The new version includes the following five modules:
Base Plate / Anchorage Design – Any combination of axial vertical and horizontal loads, and biaxial moments. It includes uplift and partial bearing analysis. Design of anchor rods and shear lugs. Graphical generation of the breakout areas.
Steel Column Design – Either sway or non-sway columns. Second-order moments analysis to account for slenderness. Multiple load types and load cases. Results sorted by load combination. Graphical generation of the interaction diagram.
Steel / Composite Beam Design – Up to five spans and two overhangs. Multiple load types and load cases. Separate Construction and Final loads analysis. Graphical generation of the shear, and moment diagrams.
Shear Connection Design – Single angle, double angle, Shear Plate, and Tee connections. Multiple options to specify different conditions of the connection elements. Check of the limit states. Graphical generation of the connection in different views.
Moment Connection Design – Flange-Plated, and Welded Flange moment connections. Any combination of vertical loads and moments. Check of the limit states for moment and shear. Graphical generation of the connection in different views.
A Linkedin Post by the Founder of ASDIP, Javier Encinas PE, invited structural engineers across the world to download the 15-day trial of the new release in order to check the power and capabilities of the STEEL-5. According to him,
"For some weeks we have announced in advance the coming release of ASDIP STEEL 5, our software for structural steel design. As promised, ASDIP STEEL 5 has been released. In addition to an upgraded layout design and literally dozens of improvements, it includes great new features, such as:

Moment connections (NEW module)
AISC 360-16 and ACI 318-19 compliance
Custom load combinations
Biaxial base plates and anchorage
Continuous steel / composite beam

You are invited to download the 15-day free trial and check the software by yourself, hands-on. I have prepared a blog post and a short video with a brief overview of this new version of ASDIP STEEL. Your comments and suggestions are always welcome."
Detailed information is available about this structural engineering software by visiting ASDIP STEEL. You are also invited to download the Free 15-day Software Trial, or go ahead and Place your Order.