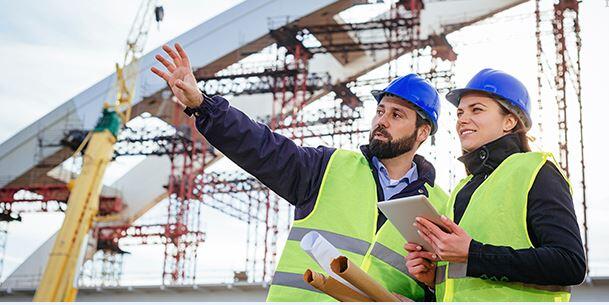 Structural engineering is an aspect of civil engineering that is concerned with the conceptualisation, modelling, design, and verification of engineering structures such as buildings, bridges, towers, etc for stability and satisfactory performance under the action of direct and indirect forces. Generally, the stability of man-made structures is the primary responsibility of a structural engineer.
However, the duties of a structural engineer extend way beyond the definition given above. This is because there are so many parts to the development of a structure that goes beyond conceptualisation and design. For instance, a structural engineer is also concerned about the materials to be utilized in a construction project and may go out of his way to develop new products or modify existing ones in order to obtain the desired result.
A structural engineer is also a manager who must take into account the availability of resources, and how best to utilize them in a safe, economical, and efficient manner. Whenever you see an output of a structural engineer, it is not just a sequence of lines and curves on a piece of paper or computer model, but a combination of constructive thinking, data processing, intricate piece of mathematics, physical sciences, environmental sciences, safety considerations, economics, and arts. A structural engineer combines different fields of arts and sciences in order to reach his goal.
The field of structural engineering is vast, developed, challenging, and interesting. A structural engineer is a highly technical and people-oriented personality who solves problems in a manner that you may not have previously imagined. He understands different structural systems and materials and knows how best to apply them for any given situation. Structural elements such as beams, columns, plates, trusses, shells, arches, domes, cables, etc are combined and produced using different materials such as concrete, steel, timber, aluminum, glass, etc to form a wholistic structural system that can resist loads.
The structure so designed must be able to resist forces coming from their own self-weight, other imposed loads due to storage and occupancy, indirect forces such as temperature difference and sinking of supports, and other environmental loads such as water waves, wind, and earthquake. These loads develop internal forces such as axial tension, compression, bending, shear, twisting, etc in the structural members which may cause collapse or failure. A structural engineer must assess the magnitude of these forces and design the structure to resist failure or collapse as a result of these forces.
While the laws of physics and mathematics are required to check that the selected system is stable, it is an art to ensure that the connection of the members, their alignment, and interaction maintains the elegance of the structure in a non-disruptive, economical, and efficient manner. It is also important to ensure that there is a sense of balance in the design and that the final output is aesthetically pleasing. A structural engineering work should not look haphazard or like the product of an afterthought.
A structural engineer is expected to have a detailed knowledge of the design codes of practice in his country, as well as good knowledge of engineering mechanics and structural analysis. In this modern era, the knowledge of different types of engineering design and drafting software such as Staad Pro, ETABS, Tekla, Revit Structures, AUTOCAD etc is very important. Furthermore, one of the most important tools of a structural engineer is experience.
With improvements in the field of material sciences and the quest for more elegant and environmentally friendly buildings, infrastructures, and general development, the intelligence, creativity, and skills of a structural engineer are constantly called upon. There are different kinds of structures for which the services of a structural engineer are required such as high-rise buildings, dams, bridges, earthworks, railways, pipelines, power stations, towers, water retaining structures, earth retaining structures, tunnels, roadways, offshore structures, culverts, transmission lines, reservoirs, etc.
Furthermore, the services of a structural engineer are also required in mechanical structures such as cranes, boilers, pressure vessels, elevators and escalators, carriages, marine vessels, hulls, etc.
A structural engineer's primary concern is safety, and he must achieve this in an efficient and economical manner. In structures such as buildings and bridges, safety consideration ensures that the structure will not suffer any form of collapse or failure while in service. He must also ensure that the structure will perform satisfactorily by not vibrating excessively, swaying, or cracking when being used by the occupants. Some specialties in the field of structural engineering such as fire engineering, wind engineering, earthquake engineering, etc may be required depending on the peculiarities of the project.
Apart from the performance of the finished structure, a structural engineer is also concerned about the safety and good performance of the structure while it is still under construction. This involves the safety of the workers, ease of executing the design, environmental considerations, level of expertise available, and the cost and/or availability of the materials he is recommending. Generally, he ensures that the cost of the structure remains friendly to the client while satisfying other very important requirements.
In a typical building project, the structural engineer will not work alone but will be involved with other professionals such as architects, geotechnical engineers, surveyors, electrical engineers, interior decorators, mechanical engineers, etc. The technical coordination of these professionals is usually required during the design and construction stage. Therefore, a structural engineer should have good human relations skills.
Moreover, he should be able to communicate effectively using reports, emails, drawings, PowerPoint presentations, computer models, and orally. As a critical thinker whom a lot of persons and the environment depend on for safety, his training and development is vital and must be carefully observed.
A structural engineer is expected to obtain a bachelor's degree in the field of structural or civil engineering from an approved university or institution of higher learning. He is then expected to work as a pupil or graduate engineer in a reputable engineering firm for a number of years in order to gather practical experience before applying for a 'chartered' or 'registered/professional' engineer status. This usually requires professional exams, presentations, and interviews from senior engineers and professional bodies. Engineers can be licenced as Civil Engineers, Structural Engineers or both .
In Nigeria, the criteria to be called a 'structural engineer' is to be issued a seal or license by COREN as 'structural engineer' or to be issued a license as a 'civil engineer' and belonging to the Nigerian Institution of Structural Engineers (NIStructE) as a professional member. You can only become a member of NIStructE by attempting and passing the part 3 exam of the professional body.
Some of the biggest structural engineering professional bodies in the world are the Institution of Structural Engineers (IStructE) and the International Association for Bridge and Structural Engineering (IABSE). Belonging to these institutions usually gives someone global recognition as a structural engineer.
In essence, structural engineering is a prestigious profession that has the responsibility of driving the infrastructural development of the world. Their roles in making our universe a better place cannot be overemphasized. Whenever you set your eyes on amazing structures such as skyscrapers, bridges, towers, and other infrastructures, appreciate the efforts of the structural engineer in making such structures safe, stable, and usable.