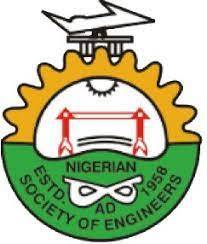 The Nigerian Society of Engineers (NSE) was founded in the year 1958 to serve as an umbrella body for professional engineers in Nigeria. As a professional body, the NSE is dedicated to the professional development and enhancement of its members, and amongst other things, to upholding high ethics and standards in the practice of engineering profession in Nigeria.
Engineering graduates from COREN recognised universities who have practiced for a minimum of four years are qualified to apply to become corporate members of the NSE. During application, candidates are expected to provide documents such as 1st-degree certificate, NYSC certificate, statement of experience forms, acknowledgment form (from the branch), and must be endorsed by two financially up-to-date Registered Engineers who will act as the proposers. There are other different categories of membership in the NSE and the requirements for each cadre of membership are well specified on the NSE website.
Candidates following the B1/B2 route (described above) to corporate membership are required among other things to satisfy some minimum requirements which are assessed through technical reports, interviews, and examination. Candidates who successfully pass through this process can directly apply to COREN to be recognised as Registered Engineers without further exams or interviews.
One of the major hurdles of the NSE application process is to successfully write a detailed technical report containing your relevant work experience. The interesting aspect of this is that the report will be read and assessed by experienced registered engineers in the field of the candidate, who will eventually interview the candidate.
If the candidate is successful after this stage, he can proceed to write a computer-based test before the council takes a decision. Therefore, the aim of this article is to show you how to successfully write and defend your NSE technical report.
The NSE technical report is separated into Volume 1 and Volume 2. Volume 1 of the report contains the generalised post-graduate experience of the candidate, while Volume 2 is a technical report that contains specific engineering designs and/or construction that the candidate has executed under the supervision of a Registered Engineer.
In order to be successful, a candidate should be very sure that he is qualified to be admitted as a corporate member of the NSE. This is done by checking that he has met all the prescribed requirements, including a minimum of 4 years of professional work experience.
Engineering graduates who have met the four years postgraduate requirement but are not practicing engineering should not apply, since this will undermine the vision of upholding high professional standards in engineering in Nigeria. Only those who are practicing engineering should apply.
Therefore honesty, integrity, and confidence is very paramount in this case. Furthermore, it is very easy for experienced engineers to recognise someone who is not in active practise.
Guidelines for Writing Volume 1 – 'Post-Graduate Experience'
The format or guideline for writing Volume 1 of the NSE technical report can be downloaded from the NSE website. This aspect of the technical report should contain the academic and work history of the candidate. The procedure for writing the academic history can be seen in the NSE guideline. However, I will elaborate on the work experience aspect.
The way the professional work experience of the candidate should be arranged as shown in the snippet below;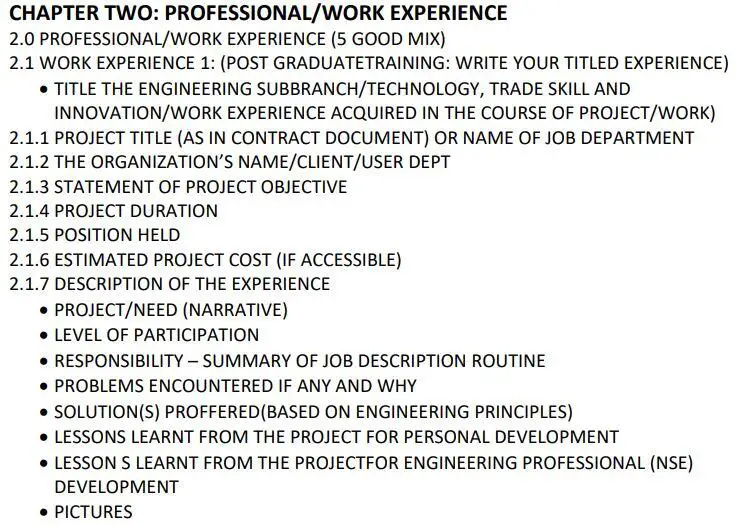 A candidate is expected to report on at least 5 projects he has been involved in since his graduation from the university. The projects can be in the form of design (consultancy) and/or construction. Candidates in academia can submit details of their research output (publications) that are relevant to the development of the engineering profession. The aim of the Volume 1 report is to show the depth of professional experience acquired by the candidate.
Post Graduate Training – Titled Experience
According to NSE guidelines, a candidate is expected to start by stating the title of the experience gained for each project. This will enable the examiners to know the direction that the candidate is going, and also know the minimum experience they are expecting the candidate to acquire from the project.
A civil engineering graduate who has been on a construction site as a site engineer should state 'site supervision/management' as the experience gained. Someone who has been in the design office as a consultant can state the experience gained as 'structural design'. To be more specific, the candidate should add the actual nature of the design done since each project in the report is expected to be unique. Experience in the design of steel structures should be differentiated from experience in the design of reinforced concrete.
Therefore, the titled experience for each of the projects can be in the following forms (note: this is mixed up across different fields of engineering);
WORK EXPERIENCE 1: DESIGN OF SOLAR INVERTERS
WORK EXPERIENCE 2: DESIGN OF TIMBER BRIDGE
WORK EXPERIENCE 3: CONSTRUCTION SUPERVISION OF RIGID PAVEMENT
WORK EXPERIENCE 4: DESIGN OF EARTH DAMS
WORK EXPERIENCE 5: INSTRUMENTATION OF LPG GAS PLANT
For example, if you look at the titles above, the examiners will expect the candidate who stated the 'Work Experience 2' to have acquired a minimum basic experience in the design of timber bridges (not reinforced concrete or steel). With that, they are already looking out for some important details that will show that the experience gained is sufficient. All grey areas can be cleared during the interviews as the examiners will likely request to get more information from you.
Project Title
The title of the project where the experience was gained should be explicitly stated. The project title should be as written in the contract documents of the project. The following are examples of project titles;
(1) EXPANSION AND REHABILITATION OF ENUGU-ONITSHA EXPRESSWAY
(2) INSTALLATION OF 33 kVA TRANSFORMER FOR SILVA ESTATE, AKURE
(3) STRUCTURAL DESIGN OF RESIDENTIAL DEVELOPMENT FOR MR. AND MRS. GARBA BELLO
(4) DESIGN AND INSTALLATION OF HVAC FOR ORIENTAL HOTELS AND TOWERS
Organisation Name
The NSE technical report guidelines requires that you state the organisation/department where the experience was gained. For example;
FEDERAL MINISTRY OF WATER RESOURCES, NIGERIA (Dams and Reservoir Operations Department)
STRUCTVILLE INTEGRATED SERVICES, LIMITED
OVE ARUP AND PARTNERS (Project Management Department)
LAMBERT ELECTROMEC
Statement of Project Objective
No project starts in vain. As an engineer, it is expected that you should know the objective of the project that you are embarking on. The objective of a project should also determine whether you should agree to be part of the project or not. It is against NSE engineering ethics to be involved in projects whose aims are inimical to humanity and general development. For instance, projects linked to acts of terrorism should be rejected by professional engineers. Do not be like Tom Lehrer who made this quote;
Once the rockets go up, who cares where they come down? That is not my department.

The specific objectives of an engineering project could be;
(1) Construction of water treatment plant for raw water from Ogbese Reservoir for household distribution.
(2) Assessment of the sub-soil conditions of Lekki Peninsula with a view of obtaining the most appropriate foundation system for a medium-rise commercial development.
The objectives of the project from which you obtained your relevant experience can give the examiners an idea of the quality of experience and/or exposure that you must have gained.
Project Duration and Position Held
It is important to state the number of years or months you spent on each project. Remember as I said earlier, the aim of the examiners is to evaluate the depth of experience you have acquired in the profession. Nobody expects you to know it all, but in the areas where you have worked, you are expected to be good at it in order to be called an engineer.
Furthermore, the job title or position you held during your engagement should be stated. Job titles are usually provided in your employment letter and should be very professional titles that reflect the nature of your responsibility. When the actual job title is generic, you can add the specific role or responsibility in parenthesis. Some examples of valid job titles are;
(1) GRADUATE RESEARCH ASSISTANT (Department of Mechanical Engineering)
(2) PUPIL ENGINEER (Structural Design)
(3) ASSISTANT SITE SUPERVISOR
(4) GRADUATE INTERN (Facility Management), etc
It is awkward for you to handle a project from start to finish immediately after graduation without the supervision of a Registered Engineer. Therefore, you should be properly guided when writing about your experience.
Description of Experience
This is an important aspect of the NSE 'Volume 1' technical report. In this section, you are expected to describe the project, your level of participation in the project, your responsibility, the summary of your daily routine/job description, challenges encountered during the project, solutions proferred, and lessons learned from the project.
It is very important for you to write on projects that you truly worked on. Avoid giving false reports or giving your technical report to someone else to write for you. You should own your report completely. By so doing, you will be able to defend all the processes and operations of the project from start to finish. This should include the design, construction methodology, and construction management. Lies and discrepancies can be easily detected since you are going to be examined by engineers who do exactly the same thing.
Furthermore, even if you worked on construction aspects only, you should have an idea about how the design is done. This is what makes you a complete engineer.
In order to make this section clear, you should break it down into sub-sections as recommended in the NSE technical report guideline. The 'description of experience report' should be written in first person singular or plural.
If you have truly participated in an engineering project, you should have no challenge in telling the story of what you did during the project. The only difference is that you will have to tell the story in a technical way. Having said that, you should use technical terms in your description of daily work activities.
For civil engineers on site, it is very common to use expressions that are easily understood by the artisans. For instance, terms like 'shoot-out' (for cantilevers), 'iron 16' (for Y16 mm rebars), 'pillars' (for columns), etc should be avoided in your report. Also, the proper description of each item of work such as 'preparation and installation of formwork', 'pouring/casting of concrete', 'creation of diversion', 'establishment of construction levels', etc should be used.
Every project is unique and has its own challenges. A good engineer will always reflect on the challenges encountered during a previous project and how it was resolved. This is because experience is what makes a complete engineer. You can as well think of how to improve on the solutions you adopted in the past. Some examples of challenges that can be encountered on site are;
(1) Groundwater control problems
(2) Human resources management problems
(3) Discrepancies between design specifications and actual site conditions
(4) Construction cost management, etc
In order to assess your level of exposure in the engineering profession, the examiners will like to know the challenges you encountered and how you solved them. Remember that your storytelling should be technical, and the solutions you proffered should make engineering sense (technical and management wise).
Even if you had made wrong decisions, there is no problem since you are expected to state the lessons you learned from each project. We all make mistakes, but the lessons you learn from them are more important.
Pictures
Ultimately, you are expected to back up each project with pictures to add more weight to your claims. So always take pictures of your construction projects. It is very important.
Guidelines for Writing Volume 2 – 'NSE Technical Report on Two Selected Projects'
In Volume 2 of the NSE technical report, you are expected to select two of your best projects from the five listed in Volume 1 and write a detailed report on them. Preferably, the two projects selected should not be related and should offer a completely different experience to the candidate.
For instance, if the first project report is on the design of a reinforced concrete residential building, the second should be preferably come from say, design and construction of an industrial steel building, shoreline protection, retaining walls and culverts, bridges, construction of jetties/wharves, tank farms, and reservoirs, etc.
Candidates with experience in different fields can report on highway construction, water treatment and supply, etc.
According to NSE technical report guidelines, Volume 2 should be divided into three chapters. The first and second chapters should contain reports on the first and second projects respectively, while the third chapter should contain the recommendation and conclusion.
The arrangement of chapters 1 and 2 should be as follows;
1.0 INTRODUCTION
1.1 JUSTIFICATION OR NEED FOR PROJECT
1.2 PRELIMINARY STUDIES/INVESTIGATIONS
1.3 DESIGN CONSIDERATIONS/CRITERIA
1.4 STANDARDS AND SPECIFICATIONS
1.5 METHODOLOGY AND DESIGN CALCULATIONS
1.6 DRAWINGS
1.7 PREPARATION OF BEME (INCLUDING TAKE–OFF SHEETS)
1.8 CONSTRUCTION/INSTALLATION/ANALYSIS/TEST & CALCULATIONS
1.9 ANALYSIS OF TEST RESULTS AND COMMISSIONING
1.10 PROJECT OUTCOME
Introduction
In this section, the project should be properly introduced. The introduction should include the title of the project, the client, the consultants, and the contractors. Furthermore, the location of the project should also be included. For buildings, the features of the building should be included such as the materials to be used for the construction (reinforced concrete, structural steel, timber, etc), the number of floors, the floor area, etc. Other specific features such as suspended swimming pools, helipad, tanks, etc should also be included.
Every feature that can give an idea of the magnitude of the selected project and the expected level of construction difficulty should be stated.
Justification of the Project
The exact need of the project should be stated. This could be stated in form of;
Construction of a two-lane flyover bridge at Eleme Junction to ease traffic congestion
Construction of public swimming pool for residents of Springhill Estate for recreation and relaxation purposes
Construction of Okoja motor park to provide parking facility for commuters, and to avoid on-street parking
Preliminary Studies/Investigations
All the preliminary studies carried out before the commencement of the project should be stated. These can include the Environmental Impact Assessment (EIA), site surveys, geotechnical site investigation, wind funnel tests, etc. The findings of these investigations and how they affect the project in terms of planning, design, and execution should also be stated.

Design Considerations/Criteria
The candidate is expected to state the design considerations for the project. These can include the decisions taken from the preliminary studies or site investigation. The exposure conditions of the proposed structure, the basic wind speed, potentials for differential settlement or temperature difference should be stated.
Furthermore, the anticipated direct actions on the structure should be stated such as 'highway bridge to be subjected to abnormal traffic', 'building to be used as a place of worship', 'building founded on a water logged area' etc. All considerations that will affect the design of the building should be stated.
Standards and Specifications
The code of practice or standard adopted in the design should be clearly stated.
Methodology/Design Calculations
For reports on construction, the construction methodology should be stated. For design works, the design calculation should be shown in full. Remember that the design calculation sheet for NSE technical report should be presented in the standard format of 'Reference – Calculation – Output'.
Drawings
All design drawings (structural detailing) should be included. Drawings should be presented using the generally accepted format and scales. A lot of people have been disqualified from NSE exams for presenting shoddy drawings. All drawings should be clean, legible, and properly formatted. Remember to show plan and sections (for slabs), and elevation and sections (for beams and columns).
Preparation of BEME
The Bill of Engineering Measurement and Evaluation (BEME) for each project should be included. This should also include the quantity take-off sheet. As far as what we know is concerned, BEME is concerned with the calculation of quantities and cost of items of work in an engineering project that requires engineering judgement in the process. Otherwise, it something that should be left to quantity surveyors in my opinion.
Therefore for civil engineering projects, I will recommend limiting your BEME to just concrete and reinforcements works (or structural steel and the accessories). Calculation of quantities such as plaster, blocks/bricks, doors, windows, tiles, etc is not necessary in my opinion.