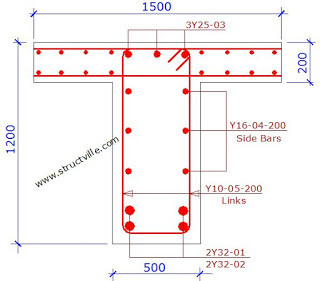 A section of a beam profile is shown above. BASED ON THE GIVEN DATA ONLY AND WITHOUT MAKING ANY ASSUMPTIONS, identify the technical error(s) in the section detailing using BS 8110-1:1997 recommendations? Read the hints below carefully!
Data
Figured dimensions are in mm
Concrete cover at the sides and the soffit = 40 mm
Concrete cover at the top = 30 mm
Strength of reinforcement = 460 N/mm2
Strength of concrete = 35 N/mm2
Section is at mid-span (sagging moment)
Area of tension reinforcement required = 2960 mm2
Hints:
(1) This post is for educational purposes, hence, your reply is better dropped here on Structville as a comment so that every person accessing the post from different platforms can see the reply.

(2) Please, do not guess. If you identify the error(s), kindly drop your comment, otherwise, keep checking back for other people's replies. Do not post your guesses.

(3) If you are not familiar with BS 8110-1:1997, but you identify any error based on the code that you are familiar with, kindly state the code, and the error you discovered. Try to be technical in your explanations, or quote the requirement as given in the code.

(4) The diagram is not to scale, so use the figured dimensions only. Also, do not call on any data or information that is not provided.

(5) Let your explanations be offered with love.

We believe that knowledge is power.
Kindly tag all structural engineers you know and/or forward this post to them.
Our facebook page is at www.facebook.com/structville