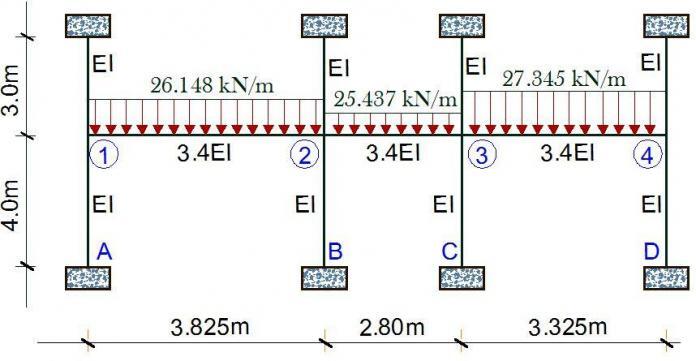 Several codes of practice in the world allow us to idealise structures into 2-dimensional frames for the purpose of simplified analysis. For sub-frames, it is obvious that the force method becomes less handy due to high number of redundants, and the next best alternative is the displacement method, where we solve for the unknown displacements.
[the_ad id="498″]
In this post, we have a typical example where a problem that would have generated (21 x 21) matrix using force method has been solved using (4 x 4) matrix by displacement method. Another approach to the solution of this problem is the moment distribution method. But in this case, the displacement remains the fastest.
For the frame loaded as shown above, we have to start by drawing the kinematic basic system of the structure. This has been achieved by fixing all the nodes against rotation as shown below.
We will now have to evaluate the basic system for different cases of rotation.

Analysis of Case 1
Z1 = 1.0; Z2 = Z3 = Z4 = 0
K11 = (4EI/3) + (4EI/4) + (13.6EI/3.825) = 5.889EI
K21 =  (6.8EI/3.825) = 1.778EI
K31 = 0
K41 = 0
Analysis of Case 2
Z2 = 1.0; Z2 = Z3 = Z4 = 0
K12 = (6.8EI/3.825) = 1.778EI
K22 = (4EI/3) + (4EI/4) + (13.6EI/3.825) + (13.6EI/2.8) = 10.7460EI
K32 = (6.8EI/2.8) =  2.4286EI
K42 = 0


Analysis of Case 3
Z3 = 1.0; Z1 = Z2 = Z4 = 0


K13 = 0
K23 = (4EI/3) + (4EI/4) + (13.6EI/3.825) + (13.6EI/2.8) = 10.7460EI= 2.4286EI
K33 = (4EI/3) + (4EI/4) + (13.6EI/3.325) + (13.6EI/2.8) = 11.2807EI
K43 = (6.8EI/3.325) = 2.0451EI
Analysis of Case 4
Z4 = 1.0; Z1 = Z2 = Z3 = 0
K14 = 0
K24 = 0
K34 =  (6.8EI/3.325) = 2.045EI
K44 = (4EI/3) + (4EI/4) + (13.6EI/3.325) = 6.4236EI
Stiffness coefficient due to externally applied load;
K1P = -(q1L12/12) = -(26.148 × 3.8252) / 12 = -31.880 KNm
K2P = (q1L12/12) – (q2L22/12) = [(26.148 × 3.8252) / 12] – [(25.437 × 2.802) / 12] = 15.261 KNm
K3P = (q2L22/12) – (q3L32/12) = [(25.437 × 2.82) / 12] – [(27.345 × 3.3252) / 12] = -8.5741 KNm
K1P = (q3L32/12) = (27.345 × 3.3252) / 12 = 25.193 KNm
The appropriate cannonical equation;
K11Z1 + K12Z2 + K13Z3 + K14Z4 + K1P = 0
K21Z1 + K22Z2 + K23Z3 + K24Z4 + K2P = 0
K31Z1 + K32Z2 + K33Z3 + K34Z4 + K3P = 0
K41Z1 + K42Z2 + K43Z3 + K44Z4 + K4P = 0
On substituting;
5.889Z1 + 1.778Z2     +    0Z3        + 0Z4         = 31.880
1.778Z1 + 10.746Z2   + 2.4286Z3  + 0Z4         = -15.261
0Z1        + 2.4286Z2   + 11.287Z3  + 2.045Z4  = 8.5741
0Z1        + 0Z2            + 2.045Z3  + 6.4236Z4  = -25.193
On solving;
Z1 = 6.3102/EI (radians)
Z2 = -2.9701/EI (radians)
Z3 = 2.2384/EI (radians)
Z4 = -4.6346/EI (radians)
Now that we have obtained the rotations, we can now substitute and obtain the moments at the critical points;
Mi = M1Z1 + M2Z2 + M3Z3 + M4Z4 + P
Bottom column support moments
MA = (6.3102/EI) × (2EI/4) = 3.1551 KNm
MB = (-2.9701/EI) × (2EI/4) = -1.485 KNm
MC = (2.2384/EI) × (2EI/4) = 1.1192 KNm
MD = (-4.6346/EI) × (2EI/4) = -2.3173 KNm
Beam Support Moments
M1R = [(6.3102/EI) × (13.6EI/3.825)] – [(2.9701/EI) × (6.8EI/3.825)] – 31.880 = -14.7239 KNm
M2L = [(6.3102/EI) × (6.8EI/3.825)] – [(2.9701/EI) × (13.6EI/3.825)] + 31.880 = 32.537 KNm
M2R = [-(2.9701/EI) × (13.6EI/2.8)] + [(2.23841/EI) × (6.8EI/2.8)] – 16.619 = -25.6090 KNm
M3L = [-(2.9701/EI) × (6.8EI/2.8)] + [(2.2384/EI) × (13.6EI/2.8)] + 16.619 = 20.278 KNm
M4R = [(2.2384/EI) × (13.6EI/3.325)] – [(4.6346/EI) × (6.8EI/3.325)] – 25.193 = -25.5157 KNm
M3L = [(2.2384/EI) × (6.8EI/3.325)] – [(4.6346/EI) × (13.6EI/3.325)] + 25.193 = 10.814 KNm
Thank you for visiting Structville today….
Our Facebook page is at www.facebook.com/structville