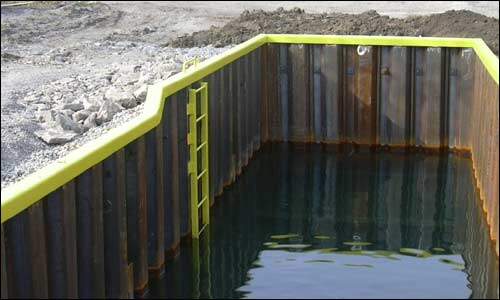 Sheet pile walls are thin retaining walls constructed to retain earth, water, or any other fill material. They are typically thinner than masonry or reinforced concrete retaining walls such as cantilever retaining walls and can be constructed using materials such as steel, concrete, or timber. Timber sheet pile walls are used for resisting light loads and for temporary works such as braced sheeting in cuts and must be joined using tongue and groove joint. Reinforced concrete sheet piles are precast concrete members with tongue and groove joints. The piles are relatively and displace a huge volume of soil during driving.
The most common type of sheet pile walls is steel sheet piles. They have the advantage of being resistant to high driving stresses developed in hard or rocky formations. They are lighter in weight and can be reused several times in any type of condition. Steel sheet piling is used in many types of temporary works and permanent structures. The selected section must be designed to provide the maximum strength and durability at the lowest possible weight and good driving qualities.
Uses of sheet pile walls
(1) River control structures and flood defense
Steel sheet piling has traditionally been used for the support and protection of river banks, lock and sluice construction, and flood protection. Ease of use, length of life, and the ability to be driven through water make piles the obvious choice.
(2) Ports and harbours
Steel sheet piling is a tried and tested material to construct quay walls speedily and economically. Steel sheet piles can be designed to cater for heavy vertical loads and large bending moments.
(3) Pumping stations
Historically used as temporary support for the construction of pumping stations, sheet piling can be easily designed as the permanent structure with substantial savings in time and cost. Although pumping stations tend to be rectangular, circular construction should be considered as advantages can be gained from the resulting open structure.
(4) Bridge abutments
Abutments formed from sheet piles are most cost-effective in situations when a piled foundation is required to support the bridge or where the speed of construction is critical. Sheet piling can act as both foundation and abutment and can be driven in a single operation, requiring a minimum of space and time for construction.
(5) Road widening retaining walls
Key requirements in road widening include minimised land take and speed of construction – particularly in lane rental situations. Steel sheet piling provides these and eliminates the need for soil excavation and disposal.
(6) Basements
Sheet piling is an ideal material for constructing basement walls as it requires minimal construction width. Its properties are fully utilised in both the temporary and permanent cases and it offers significant cost and programme savings. Sheet piles can also support vertical loads from the structure above.
(7) Underground car parks
One specific form of basement where steel sheet piling has been found to be particularly effective is for the creation of underground car parks. The fact that steel sheet piles can be driven tight against the boundaries of the site and the wall itself has minimum thickness means that the area available for cars is maximised and the cost per bay is minimised.
(8) Containment barriers
Sealed sheet piling is an effective means for the containment of contaminated land. A range of proprietary sealants is available to suit particular conditions where extremely low permeability is required.
(9) Load-bearing foundations
Steel sheet piling can be combined with special corner profiles to form small diameter closed boxes which are ideally suited for the construction of load-bearing foundations. Developed for use as a support system for motorway sign gantries, the concept has also been used to create foundation piles for bridges.
(10) Temporary works
For construction projects where a supported excavation is required, steel sheet piling should be the first choice. The fundamental properties of strength and ease of use – which steel offers – are fully utilised in temporary works. The ability to extract and re-use sheet piles makes them an effective design solution. However, significant cost reductions and programme savings can be achieved by designing the temporary sheet pile structure as the permanent works.